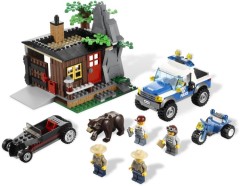 Valid thru' Saturday 2/4, you'll save $10 on any total LEGO City or LEGO Ninjago construction set purchase of $50 or more at Toys R Us. Much like the other promotion, you're going to be hard pressed to find any kind of a deal here as every single set is significantly marked up right now. Shining examples are the Car and Camper, Fire Plane and Ambulance at 40%, 28% and 25% over MSRP respectively.
You'd be surprised to know that it is physically possible to save money with this deal but you have to choose wisely. The best I was able to do was pairing up the Robber's Hideout (4438) with a Space Moon Buggy (3365) resulting in a net saving of $4 off MSRP. Can anyone beat that? :o)
Commenting has ended on this article.