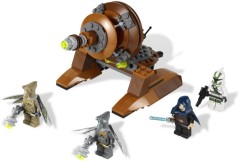 Valid Sunday 2/12 through Saturday 2/18, all Star Wars sets are on sale at Toys R Us. Most sets are only 10% off the normal TRU prices which in many cases won't even bring the sets back down to MSRP, let alone below. That being said, there are a couple of deals to be had:

Additionally, you receive a Darth Maul USB Flash Drive with a qualifying $35 purchase. As LegoFanTexas mentioned in the forum and for those of us that live near a LEGO Store, there's no rush to pick up a SSD, Shuttle and Death Star here. Between March 1 and March 15, the LEGO Stores and LEGOShop.com will be having another Double VIP Points promotion which will match the savings from Toys R Us. You will miss out on the Flash Drive though, and you'll need to buy in a LEGO Store in order to avoid shipping charges. But in a push situation, I'd rather give my money directly to LEGO.
Commenting has ended on this article.