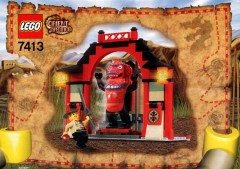 Here's a round-up of news and site updates that don't really warrant separate articles:
- There's a strange entry at Amazon.cn which translates to 4207 Car Park. Mah4546 who told us about this wonders whether it's '6394 Metro Park and Service Tower re-imagined' as a result of LEGO's recent request for ideas for sets to re-release (more info in the forum). It certainly comes in a big box: 58x37cm.
- The LOTR microsite is now live at LEGO.com, featuring character bios (thanks Rockman Xtreme)
- I've updated the wallpaper repository with the latest ones at LEGO.com, including HERO Factory, Collectable minifigs series 4 and 5, and Technic 2011. It seems to me that LEGO is not issuing so many wallpapers these days. Many of the themes don't have any (e.g. Ninjago), or they haven't been updated for years (e.g. Star Wars). If you know of some I haven't added yet, please let me know.
- I've replaced nearly all the images of the Orient Expedition sets with new scans provided by WilliamH which means they are now a consistent size and quality. William sent them to me months ago, but I'd forgotten all about them until now!
Commenting has ended on this article.