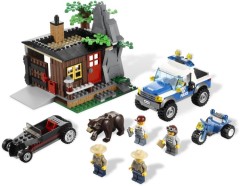 Valid Sunday 2/19 through Saturday 2/25, Buy One, Get One 50% Off ALL LEGO construction sets and board games. And by ALL, Toys R Us is excluding Friends, Mindstorms and Star Wars. As always, be sure to buy similarly priced sets to maximize your savings. Additionally, try and find those sets as close to MSRP as possible. While this is no easy task at Toys R Us these days, there are some deals to be had. In store for example, I'd look at pairing the Robbers' Hideout (4438) with the Dynamic Duo Funhouse (6857) which will result in nearly 16% Off MSRP. Online for example, I'd pair the Grand Emporium (10211) with the Fire Brigade (10197) which will result in 25% Off MSRP.
UPDATE: The sale is live now (12:05am EST) and they are allowing 3 BOGO discounts per transaction. Additionally, the Star Wars sale from last week is still live so you can use those sets to help get to the Free Shipping threshold.
Commenting has ended on this article.