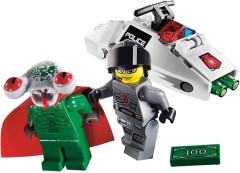 The Canadian Toys R Us website has the first six Space Police 3 sets available for pre-order. They claim they'll be shipping on the 1st June which is slightly earlier than I had expected. It's still unclear exactly which countries these will be available in, I believe that UK shops, for example, won't be getting them but they might still be available from LEGOshop.com in the UK -- we'll have to wait and see...
Thanks to iPod and mmgamg for the news!
Commenting has ended on this article.