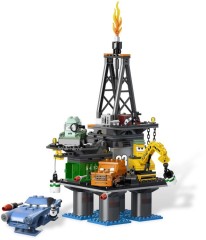 I should probably rename this article 'pick of the year' since this is the first PotW I've found the time to write this year. I'll try not to be so tardy in future :-)
Anyway, this Cars 2 set, Oil Rig Escape, was briefly available at 30% discount at Amazon.co.uk earlier in the week so I took the opportunity to snap it up, and I've just finished building it.
When I first saw the Cars 2 sets last year I vowed not to buy them but it wasn't long before I succumbed to the charms of the cars themselves and now I just about have all of the 2011 sets. Although I loved the cars and vehicles I wasn't too impressed with the rest of the sets. Some were downright awful (Big Bentley Bust-out) and others were pretty much superfluous (Tokyo Pit Stop) and did nothing except add to the cost.
I was slightly surprised when I heard that there would be a second batch of Cars sets this year particularly given that there isn't a movie or anything else for them to tie in with. I guess sales must have been strong enough last year to warrant it. In many ways, this second batch is better than the first: the cars are more varied and colourful and the supporting structures have either been removed or are much better.
9486 Oil Rig Escape falls into the latter category in that the oil rig itself is actually a pretty good model in its own right. The oil rig platform consists of two of the new 8x16 plates to make a total area of 16x16, so it's a bit on the small side, particularly when compared to that in the movie. It's designed so that you can rearrange the subassemblies on it, the tower, control room, container, helipad and so on to make it how you want it. There's a lot of playability in it, what with the platform's flexibility and a winch, crane and several bits and pieces to lift on and off the platform.
It comes with five characters, three of which are cars: Finn McMissile in submarine configuration, Professor Z, who's much the same as last year's, but with a new 'angry' face, and Grem who this year is orange instead of red which is what he should be. He certainly looks better in orange and adds a lot of colour to the set. The other two characters are 'The crane' and Leland Turbo, who has been crushed into a cube (2x2 brick with 2x2 tile on top!).
One thing I don't like was that there area lot of stickers in the set. The faces are printed but everything else is a sticker. Thankfully they are the transparent film type rather than printed on white so they shouldn't peel over time like the white-backed ones are prone to do. Other than that (and the set's full price!) there's nothing not to like about it. In fact I think I'd go as far as to say it's my favourite Cars set so for that reason it's my pick of the week.
Here are some pictures of the cars:
It's currently discounted by 15% at Amazon.co.uk; hopefully it'll drop again soon. In the USA it's still priced at RRP, $49.99, but that's equivalent to a 30% discount in the UK anyway!
Commenting has ended on this article.