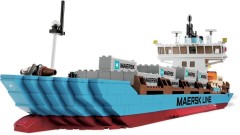 One of the best sets ever made, 10155 Maersk container ship, is available once more from shop.LEGO.com in Europe. Its price has been reduced, too, from £102 to £82 in the UK and from €109 to €87 in Germany.
This set, and the one it replaced (10152, different stickers), have been available on and off since 2004 which is pretty remarkable because I'm sure at the time in 2004 LEGO said that it would be a short run and the last set to use Maersk blue because they had no more granulate in that colour...
So, If you don't already have one, I highly recommend you buy it now before it really is too late. As I say, it is one of the finest models ever released.
(Thanks bezetkace who emailed and roxio in the forum for the news)
Commenting has ended on this article.