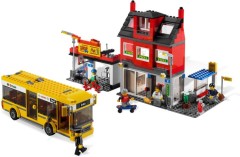 Brickset moderator Dr. Sinister found this set in his local TRU today in the south of England, much earlier than anticipated. You can view pictures in his flickr stream and read a review at his Tabletown site.
Update 25th Apr: My local branch, Portsmouth, had 6 of the new City sets: 7638 Tow Truck, 7641 City Corner, 7642 Garage, 7639 Camper, 7686 Helicopter Transport and 8402 Sports Car. I bought the camper and sports car. Sadly, the other really interesting one, 7747 Wind Turbine Transport was not there. (Update 6pm: my Brickish friends have been in that branch and cleared out the City Corner sets -- sorry!)
Commenting has ended on this article.