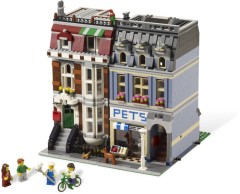 Valid Sunday 3/25 through Saturday 3/31, Toys R Us is running yet another Buy One, Get One 50% Off promotion. Friends, Star Wars and Super Heroes sets are unfortunately excluded. That being said, there are currently a number of nice sets in stock including but not limited to the Pet Shop (10218), Grand Emporium (10211) and Maersk Train (10219).
As always, try to pair sets at similar price points and with the least TRU markup in order to maximize your savings.
Not to be outdone, Target will have the following sets on sale:
Ambulance (4431) 25% Off MSRP
Ninjago Starter Set (9579) 25% Off MSRP
Stephanie's Cool Convertible (3183) 13% Off MSRP
Propeller Adventures (7292) 10% Off MSRP
Duplo Creative Sorter (6784) 10% Off MSRP
Other LEGO City, Ninjago and Creator sets also on Sale
Lastly, Five Below is now selling Harry Potter, Pirates of the Caribbean, and Clone Wars Nintendo DS Armor Case Kits. These kits come with neat mosaic tiles much like the previous Star Wars and Indiana Jones cases but you also receive a couple of stackable Brick Game Cases as well as a minifigure, be it Harry potter, Jack Sparrow or Obi Wan Kenobi. This is a pretty good deal at $5 a kit, even if you don't own a Nintendo DS.
As always, keep an eye on Amazon as they are likely to price match any/all discounted sets.
Update 1: Removed (Update from Forum turned out to be erroneous)
Update 2: This weeks TRU promotion is live as is last week's promotion. Thus, this is a great opportunity to stack your savings. For example, pairing the Forest Police Station with the Police Helicopter nets nearly 31% Off MSRP. Additionally, Wolverine's Chopper Showdown is registering both discounts for pre-orders.
Commenting has ended on this article.