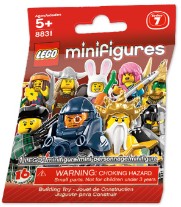 We've now had a couple of reported sightings of Series 7 minifigures in John Lewis stores across the UK. So far they've been spotted in Southsea and Glasgow. Does your store have them? Let us know in the comments below. Let's hope they hit the rest of the world soon!
Thanks to Thego and S_Hollins in the forum.
Update: We've now heard that most John Lewis stores nationwide have stock of these, but each store has only one or two boxes, so they're being bought up quickly by resellers. I've also heard back from several W H Smith stores, and they have all said that they expect stock this Thursday. Thanks for all the tips
Commenting has ended on this article.