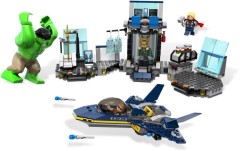 Forum member LostInTranslation has spotted the new Marvel Super Heroes sets at John Lewis, Oxford Street (UK). She's snapped some cell phone photos for us, which I've uploaded below, as proof they are now on sale :-) Keep an eye out for these sets at other John Lewis stores, and let us know if you find them. If you have no luck, it's not too long until the official launch on Sunday...
Thanks Lucy!
EDIT - there seems to be an issue with embedding images from that hosting site, so switched to links (bluemoose)
Commenting has ended on this article.