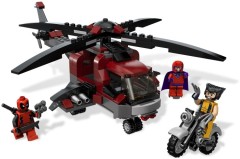 Well you USA folks didn't have to wait too long after all! The Marvel Super Heroes sets are now listed at Walmart.com with free shipping to store or 97 cents otherwise. Get your orders placed you may have had to wait a couple of days but Americans get better pricing (and shipping).
Thanks for the tip ecmo47!
Update: ...And the 'Brickset Effect' strikes again! Sold out online now, let us know if you have any luck in store.
Commenting has ended on this article.