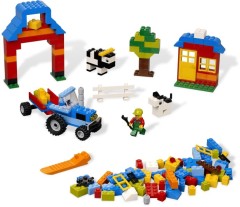 There are several UK Shopping stories currently, so I've summed them up into one for ease of viewing.
Toys R Us
There are currently 3 offers:
Free LEGO Box 4625 or 4626 worth £12.99 with any LEGO purchase over £50.
£10 gift card with spend over £40 on purchases from 28th March - 9th April. Gift card must be spent between 16th April and 7th May.
£5 voucher off your next purchase when you use click and collect (minimum £20 - expires 1st April). Voucher valid from 1st -30th April.
Argos
3 for 2 on Star Wars LEGO.
Get a £5 voucher if you spend over £50, or a £10 voucher if you spend over £100.
Amazon
The Marvel Super Heoes sets are still on pre-order to be released this Sunday.
WH Smith/Tesco/John Lewis
Series 7 seems to have made it, but in small quantities. Hopefully these shops will be getting more stock soon. There's also a couple of coupons for W H Smith in the forum.
If you have any breaking news, please be sure to let us know. You can contact Huw using the link above or contact any other news editor through their profile.
Commenting has ended on this article.