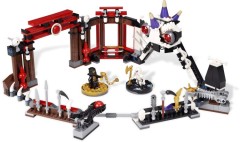 LEGO Shop @ Home (shop.LEGO.com) has further reduced some clearance merchandise to 50%-75% discount levels. Most notable is 2520 Ninja Battle Arena for $12.48. Please note that the final price is reflected when added to your cart. Most of the remaining clearance sets that had not previously dropped to 50% are now at that level.
Please consider following the links in this article or the LEGO shop link on the top right of this page if you're going to make a purchase.
Thanks to Brickset member airgap25 for the heads up!
Update: 2520 Ninja Battle Arena is now out of stock. New items have been added to the clearance.
Commenting has ended on this article.