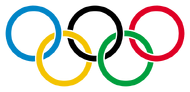 I don't normally run news stories based on rumours but this one has cropped up from a number of sources, so it's looking as if there may be some truth behind it.
It appears that LEGO is to release a series of minifigs to tie in with the London 2012 Olympics.
The story broke in the forum yesterday, and is based on information given by LEGO to several UK retailers who have then discussed it with customers.
It's said that there will be 6 figures including a judo team member, swimmer, archer, and a runner. I have no idea if these will be a UK exclusive, although it might make sense if they are, or whether they will be 'blind packs' like the collectables, but if I had to guess I'd say it's likely that they will be.
Excited?
(Thanks to Redbullgivesuwind and everyone who has contributed to the thread in the forum)
Commenting has ended on this article.