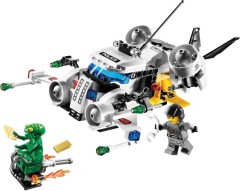 Although LEGO had previously stated that Space Police III would not be released to retailers in the UK, it appears that those 'retailers' did not include LEGO's own Brand Stores ...
We have received very credible information that the LEGO Brand Stores in the UK (Bluewater / Brighton / Milton Keynes) have today received deliveries of some Space Police III sets.
Although from a very credible source, please phone ahead to make sure that the sets are actually on sale before making the journey.
They have also received deliveries of some of the new Agents 2.0 & City sets.
Commenting has ended on this article.