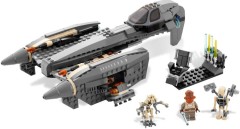 Big thanks to Brickset user Maaem for spotting a killer spur of the moment deal at Toys R Us Canada:
BOTH General Grievous Starfighter (8095) and Emperor Palpatines Shuttle (8096) are on for 31.87Can.
Before the Sale they were 69.99 and 79.99 respectfully, making it more then 50% off. My local store never even had sale signs up yet, but the price scanner reflects the sale. Hurry on down for a chance at a great deal staff may not even know about yet.
UPDATE: Sale ended, it appears lack of stock on original sale items spurred Toys R Us to offer other promotions to "fill the void." Either way this sale is now over.
Commenting has ended on this article.