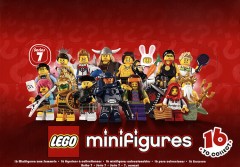 Following suggestions in the forum, we have added new entries to the database to enable you to track your collection of collectable minifigs more efficiently.
You now have the option of tracking them by individual figure, by complete set, or both. And, if you have sealed boxes of them, you can track them too.
The request was made, I believe, because including all 112 CMFs in your collection individually can over-inflate the total number of sets you own, which can be an issue if you have a small LEGO collection.
Big thanks to bluemoose for adding to the database and scanning the boxes!
Commenting has ended on this article.