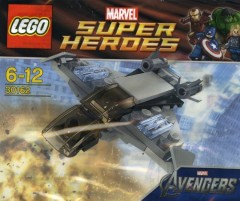 This morning's trawl of LEGO Customer Services instructions page revealed three new sets: 30162 Quinjet, 30163 Thor and the Cosmic Cube and 30165 Hawkeye with equipment. Unfortunately they haven't been rendered at the same quality as usual but you can just about make them out. The links to the instructions are on the set details pages and also, as always, on the new instructions list.
I am reliably informed that there's a Sun newspaper promotion coming up in the next month or so, so there are now a lot of new polybags that could be part of it. Fancy hazarding a guess as to what they'll be?
Commenting has ended on this article.