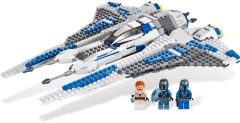 Smashing Bricks has posted what I think is the first picture of Pre Vizsla's Mandalorian Fighter, which might actually have been there for a while. It's a bit small but you can just about make out what it'll be like. This means that the only 2012 Star Wars set in the retail assortment that we don't know anything about, other than a name, is 9526 Palpatine's Arrest.
Meanwhile, the latest Master Builder Academy sets, for level 3, have shipped in the USA and a poster inside them reveals the kits that'll be in level 4. The Clutch Power blog has scanned it and as you'll see it's a bit of a mixed bag. The world architecture set looks great but the others look like a return to Time Cruisers!
It's shocking that these are still unavailable outside of North America, and as far as I know there is no timescale for making them available, either.
Commenting has ended on this article.