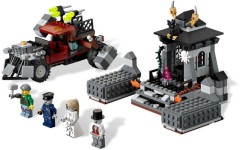 Pictures of the Monster Fighters zombies 9465, have not yet been published to the LEGO.com cache but a Polish LEGO blog has uncovered hi-res pictures of it. The vehicle looks like it's equipped with some serious zombie-squashing apparatus, doesn't it!
(thanks to Nori for the news)
Commenting has ended on this article.