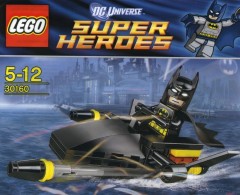 Prepare yourselves for a LEGO frenzy at WHS starting tomorrow! Nine sets are being offered from Saturday 19th to Sunday 26th May. You can see the sets that'll be available in Si_*'s BrickList.
This weekend's Batman sets, one of which hasn't been available elsewhere before, are undoubtably the best but be sure to pick up next Saturday's Ninjago set as well, which has made only one appearance before (as far as we know), in Poland.
Don't bother to go down on Friday, the fire set was given away in the Mirror promotion in 2010, and next Sunday's has been around for 5 years and you are bound to have too many of them already :-)
Commenting has ended on this article.