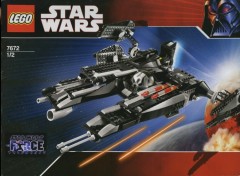 This is a pretty awful set to be perfectly honest: it looks wierd and who needs yet more black pieces, anyway. Its one redeeming feature is that it comes with three unique and pretty cool minifigs. If you've been wanting them but didn't want to pay full price then now's the time to buy. It's now available for just $25 in the USA from LEGOshop.com so when you order your chrome minifigs you might as well throw one of these in your basket at the same time.
I reckon LEGO has warehouses full of these as they are going to be half price in brand stores in the UK as well, on 6-8 July. (Thanks Everett)
Update: It seems I was mistaken about its popularity: it's sold out already!
Commenting has ended on this article.