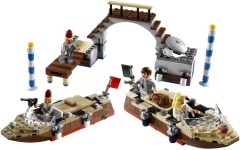 You've been waiting for this day in the USA: The five new Indiana Jones sets, with their excellent range of minifigures,
can be ordered now! Several won't ship until mid-July though.The new Star Wars Classic
sets are also listed, as are the Clone Wars
sets, so get that order in today!
No sign of IJ in Europe yet, but then we have the launch of the Games sets next week to look forward to...
(Thanks Mr.Bob for the heads-up!)
Commenting has ended on this article.