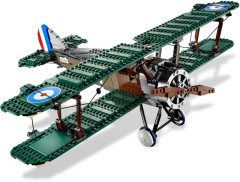 It's the 1st of the month, so it's all change at shop.LEGO.com. The free Hulk minifig offer has ended but there are some great ones in its place:
(Note: as I write this at 9am UK time, shop.LEGO.com hasn't been updated so the offer links below are not yet active)
In the USA:
In Canada:
In the UK:
Absolutely nothing!
The sale continues although nothing new has been added.
The mini Sopwith Camel offer WILL be available in the UK, but not until July.
There is some good news, however: the summer Star Wars sets are now available!
The Sopwith Camel is also now available, priced at £79.99
Commenting has ended on this article.