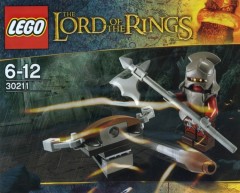 LEGO has given its instructions and spare parts customer services pages a long-overdue overhaul, which has caused me a few headaches because I have a script that automatically 'uses' it to look for new additions once a day. Thankfully, the script's author, super-coder Brent, has modified it to work with the new page already, just in time for the 1st of the month when LEGO traditionally publish a lot of new ones.
Lo and behold, when I ran it for the first time this morning, a very large number of new instructions were revealed, including for most of the summer sets but also some for previously unknown sets. I've added them to the database and you can see them here. I've attempted to download the PDFs for the new sets but a number of them are missing from LEGO's server, hence not having images for them all.
Highlights:
New polybags for Monster Fighters, LotR and Mining. 30211 looks like a great army-builder for beefing up the dark forces at the Battle of Helm's Deep!
New range of Ferrari-licenced small Racers cars, presumably to fill the void left by Cars.
Instructions listed for the Inside Tour sets 2011 (moulding machine) and 2012 (still a secret :-) ) but they are missing from LEGO's server, unfortunately...
As usual, no word on availability of the new sets, but stay tuned to Brickset to find out as soon as we know.
Commenting has ended on this article.