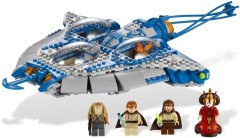 The summer Star Wars sets have all been removed from shop.LEGO.com in the UK. Firox 5000 says that he posted on LEGO's wall when Jabba's Palace disappeared earlier in the week and was told they shouldn't have been put there in the first place. Luckily I got my order in early and they arrived today...
It seems as if the best place to order them now is Amazon.es
where most of them can be had for cheaper than in the UK anyway. Postage to the UK is usually very reasonable, too, I am told.
Commenting has ended on this article.