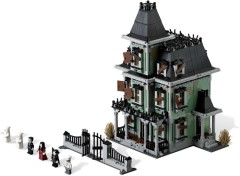 The Haunted House, that was inadvertantly revealed in the Town Hall designer video a few months ago, has been officially unveiled today, at the 20th Anniversary of The Mall of America LEGO store celebrations.
When I first saw the pictures yesterday, I was taken aback by how stunning this is. It looks fantastic from the outside, like the archetypal haunted house featured in countless movies, with boarded up windows, peeling plasterwork to expose the bricks underneath and broken shutters and railings. But it doesn't end there: it's a proper 4-walled building that's hinged on one side to reveal a highly-detailed interior complete with kitchen, bedroom and attic.
If that's not enough to get you excited, it features 6 great minifigs: male and female vampires, a zombie chef, a Frankenstein's monster-like butler and two of the new glow-in-the-dark ghosts. The rest of the Monster Fighters range doesn't do much for me, but I will definitely be getting this. Unfortunately we have to wait until September before we can buy it :-(
You can see all 23 images that LEGO provided on the set details page.
Here's the description from LEGO:
10228 Haunted House
Ages 14+. 2,064 pieces. US$179.99, CA$199.99, DE €149.99, UK £119.99, DK 1499 DKK
Enter the Haunted House at your peril!
The crooked Haunted House is home to the scariest ghosts and monsters. Tremble in fear as you open the gate, go weak at the knees as you step onto the porch and gasp in horror at the fireplace, kitchen, office, folding staircase, bedroom, potion room, music room and collection of other creepy objects. Dare you enter the Haunted House?!
Add to your LEGO® Monster Fights Collection with the first officlal LEGO® Haunted House!
Includes 6 minifigures: 2 glow-in-the-dark ghosts, Vampyre, Vampyre's Bride, Zombie chef and butler
Features unique 'crooked' design featuring boarded up windows and working front gate.
Haunted House opens to reveal detailed interior with 3 floors.
First floor features fireplace that swings open and displays a ship in a bottle on the mantle.
Cook up a ghoulish meal with the Zombie chef in the kitchen complete with old-style stove, jars and table.
Write letters from the Vampyre's haunted office.
Pull the lever hidden in the chimney to release the drop down staircase and access the top floor.
Top floor features gramophone, records and newspaper LEGO® elements.
Customize the Haunted House with new stickers for wall hangings, spider webs and curtains.
Measures 15.4" (39cm) high, 9.4" (24cm) wide and 7.5" (19cm) deep

Commenting has ended on this article.