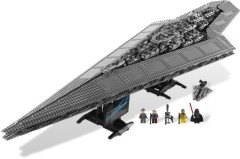 Unlike the rest of the world whose financial year ends in March, in Australia it ends at the end of June. It seems that retailers there have sales to liquidate their stock just beforehand, which I don't think happens in the US/UK.
Here are a couple of such sales that have been brought to my attention:
End of Financial Year Sale at ORTCo.
It's the end of another big financial year at Outer Rim Trading Co. and they'd rather sell their stock than count it all on June 30th so it's the perfect time to have what could be Australia's biggest LEGO sale!
Starting at 12:01am AEST Monday June 18 until 11:59pm AEST Sunday June 24, they will be offering a massive 30% off RRP on not just a few lines, but on every single product currently in stock (excluding gift vouchers). That's almost 300 items from LEGO, DUPLO, TECHNIC, books, DVD's and storage - all 30% off RRP. Stocks are limited, sorry, no rainchecks.
Giant toy sale at BigW and Target
KangoJack writes: "this year the sale starts on the 28th June, but you can preorder from the 21st June online. They have some great bargains, including 20% off all LEGO. The major item is the 10221 Super Star Destroyer which has a whopping 33% off the RRP (now only $498AUD)". You can find out more in the forum.
ShopForMe Blitzathon
Www.shopforme.com.au has a huge sale coming up on Wednesday 20 /06 that they call the BLITZATHON. Theyheavily discount 1 LEGO set each hour starting from 11:00am till midnight. The sale includes LEGO exclusives sets and the current range, so there's huge bargins to be had!
Commenting has ended on this article.