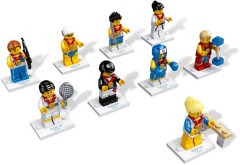 First, let me thank grogall for this picture of the Team GB minifigs. Secondly, and perhaps more excitingly, they are now available! There are reports in the forum that they have been found in quite a few branches of John Lewis, and they are turning up on eBay (see the side panel on this page).
However, we've heard that WHS will be charging £2.49 for them, rather than £1.99. I don't know the price in John Lewis, perhaps someone can let us know if they too have increased the price.
Commenting has ended on this article.