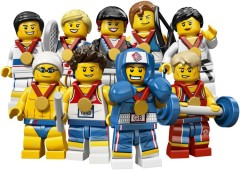 It seems that many people have had success buying these in John Lewis which, as far as I know, is the only shop that's selling them early, before the official release date of 1st July.
Unfortunately my branch, Southampton, is not selling them yet, but I'm hopeful of receiving some from a forum buddy mid-week. When I have them I'll add them to the minifig gallery.
The boxes are said, by forum members tom408 and Vegitt, to contain:
6 each of the Boxer, Weightlifter and Horse Rider
7 each of the Swimmer, Relay Runner, Judo Fighter, Tennis Player, Gymnast and Archer
That of course means there are 6 complete sets in a box, which is good news. Given the box contains 60, it's the best distribution we could hope for. It does however mean that the Boxer, Weightlifter and Horse Rider will command a premium on the secondary market, though...
Commenting has ended on this article.