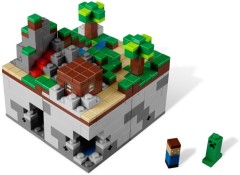 The Minecraft set has sold out in the USA and won't be returning. Brickset reader Dennis received this email from LEGO Direct Consumer Services:
"Dear Dennis,

"Thanks for your interest in our products.

"Set#21102 CUUSOO Minecraft is sold out. There were 10,000 sets created, Dennis, and all have been sold! There are not plans to produce any more of the set. Meanwhile, we have a team of experts in Denmark whose job it is to invent new LEGO® toys every year. They spend their time trying to create new and fun toys for children of all ages. You never know though, some of the old favorites sometimes make a comeback, so keep a look out!"
If true, 10,000 seems an incredibly small number, and if they have sold out in a matter of weeks it must surely have set some sort of record for the set available for the least amount of time from LEGO.com.
It's still available in Europe, but probably not for long, so if you intend buying it I suggest you do so soon.
Update: Tim from Cuusoo has stated in the comments "Actually, the message Dennis received is inaccurate. We knew the LEGO Minecraft Micro World would be popular, and though we are temporarily sold out at LEGO Direct, more than 10,000 have been made, and we are planning to meet demand on this item throughout the year."
Update 2: LEGO Direct Consumer Services is now stating "We just got an update on this item last night, Dennis, and we anticipate Set #21102 LEGO Minecraft will be returning. We have forecasted and ordered enough to last us through the holiday this year. We are temporarily out of stock but anticipate replenishment in the future."
So, panic over for now, and the 'Brickset 'effect' has had a positive impact on getting clarification on this.

Commenting has ended on this article.