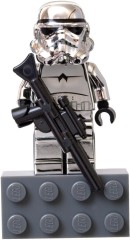 If you have a chrome Darth Vader and gold C-3PO you'll also need one of these to complete your collection. They've been a little hard to come by unless you live near a LEGO brand store until now, but now you can order a Chrome Stormtrooper
magnet from LEGOshop.com. And remember, remove the magnet and you have a normal minifig!
Commenting has ended on this article.