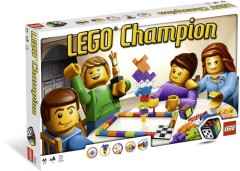 Lekplaneten in Solna Centrum, Stockholm currently has an offer of a free game, either 3861 LEGO Champion, or 3860 Heroica Castle Fortaan when you spend 300 sek or more.
They also have a few reduced sets, for example 5893 Off-Road Power for 499 sek (around 25% off)
If Swedish shopping news is of interest to you, post something in the comments: I have a correspondent that's offered to send it in.
Commenting has ended on this article.