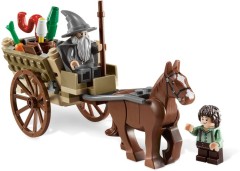 Gandalf Arrives, and the rest of the LotR sets are now listed at Argos. There doesn't seem to be a lot of stock around though -- at least not in my area -- but this set and Shelob Attacks, are in my local store and I'll be on my way down there in a minute to collect them.
Toys R Us also has them listed, but for an August 1st release. Their prices are however, astronomical: at least 20% more than at Argos. E.g. Shelob Attacks: Argos - £19.99, TRU - £24.99, Battle of Helms Deep: Argos - £99.00, TRU - £119.99!
(Thanks Kez for the news).
Commenting has ended on this article.