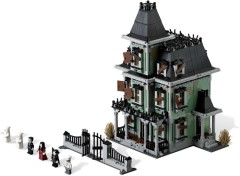 Earlier today, forum member tom4086 posted in the forum that he bought a Haunted House at LDC Manchester, for the original price of £120. Given it's not supposed to be on sale until September, this is presumably another faux pas by the Discovery Centre. Before you all go rushing there tomorrow, it sounds as if there were not many available: he bought one of the two delivered.
Furthermore, Mikky emailed to say that he bought 9525, Pre Vizsla's Mandalorian Fighter and 9526, Palpatine's Arrest there today as well. He writes "Not sure if anyone has mentioned this yet but I picked up Palpatine's Arrest and Pre Vizla sets today at LDC Manchester. With 20% off today it was £48 for Chancellor and £40 for Pre Viz. Both lovely and nowhere else that I have heard of in the UK yet."
I think he's right but hopefully it won't be long before they are available elsewhere.
Commenting has ended on this article.