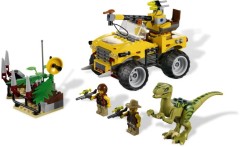 Sorry for the delay in posting news of the ToyAddict.co.uk competition to win a signed 5884 Raptor Chase that ended last Friday.
A condition of entry was registering at ToyAddict, and then getting the answer right. The first name I picked at random hadn't registered, so Tim from ToyAddict picked another from those who had, but he hadn't entered the competition! So Tim picked another, who had managed to do everything right, so congratulations, Wesley Keen, you are our winner! Please get in touch and I'll arrange to get the set sent to you.
Commenting has ended on this article.