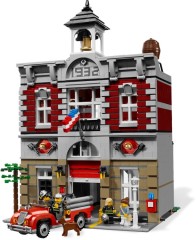 News from a reliable source tells us that the new 'Tantive IV' (10198) and 'Fire Brigade' (10197) sets will be on sale in the UK LEGO Brand Stores (Milton Keynes / Bluewater / Brighton) from this Friday, 4th September. No updates on their availability in non-UK LEGO Brand Stores, or from LEGO Shop on-line at this time, but we'll post updates if and when we hear anything!
Usual caveats apply - e.g. ring ahead before making a long journey.
UPDATE - It isn't confirmed, but it looks like the US LEGO Brand stores, and probably the German LEGO Brand stores too, will also have these two sets on the shelf on Friday morning !
UPDATE #2 - Thanks to Brickset member 'cvillone' for pointing out the instructions for both these sets are now available for download (in Adobe PDF format) from LEGO.com's service pages. Thanks cvillone ! ... And now, several hours later, they have gone again.

UPDATE #3 - After a confusing mixture of dates on the LEGO Store website over the last couple of days, the Tantive IV is now available to order world-wide !
Commenting has ended on this article.