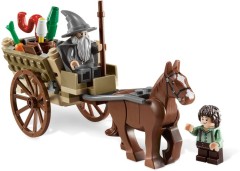 After only just one day, Argos has stopped selling the LotR sets. They are still listed at the site but they won't be available now until 21st July.
I suspect the 'Brickset effect' has occurred again. The sequence of events was probably as follows:
- Argos list them on Sunday, and make them available immediately, in error.
- Someone from LEGO UK reads Brickset on Monday morning, checks Argos for themselves then calls their head office and asks for them to be removed.
- Argos remove the sets from sale on Monday afternoon.
LEGO fan sites are effective 'eyes and ears' for the LEGO marketing team: we (as a community) do the hard work sniffing out when online retailers list products, when they publish photos and when they start selling new sets. All LEGO has to do is read Brickset - and other sites like it - and pounce on the offending retailer when they read about something they don't like.
I wonder if I can block certain content from visitors with IP addresses registered to LEGO... :-)
If there's a lesson for AFOLs to learn from this, and the removal of the summer Star Wars sets from shop.LEGO.com after a couple of days at the beginning of June, it's read Brickset regularly, and act immediately!
(Thanks to LostInTranslation for the news).
Commenting has ended on this article.