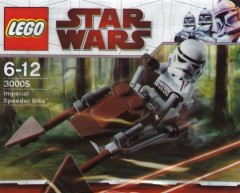 First off, apologies to those Brickset readers outside of the UK !
The Daily Mirror / Sunday Mirror newspapers in the UK are running a Star Wars LEGO promotion, starting this Saturday 5th September.
Details to be confirmed, but it looks like you will need to buy the newspaper on each day to get a voucher for a free SW Lego toy that will need to be collected from UK Toys-R-US or WH Smiths. No info on a mail-in version, which they have offered on previous similar offers.
The toys available are -
Sat 5th Sept - Imperial Speeder Bike
Sun 6th Sept - Clone Walker
Mon 7th Sept - Mini TIE Fighter
Tues 8th Sept - Battle Droid on STAP
Wed 9th Sept - Mini V-19 Torrent
Thurs 10th Sept - Mini Grievous's Starfighter
Fri 11th Sept - Collectors Box
Sat 12th Sept - Poster
Sun 13th Sept - Stickers
... which answers the question about availability of the 30004/30005/30006 sets.
More info here - http://www.mirror.co.uk/lego/
There are also lots of other goodies on the site, including wallpapers & a game.
Thanks to those that emailed us with the news.
Commenting has ended on this article.