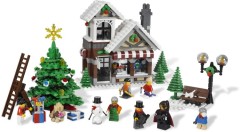 In what I think is the first news of its availability outside of Japan, we've had it confirmed that the LEGO Brand Stores in Europe are expecting the 'Winter Toy Shop' to be delivered in the next few weeks. In fact, the Milton Keynes store has already had their display model delivered, although it is not on show yet! Price is expected to be around ~£31.50UK.
No news on availability elsewhere yet, but we'll pass on anything we learn.
UPDATE - bad news on the pricing, unfortunately. The previous information we were given was a mistake; we've had it confirmed that the price will be £39.50UK. Sorry for the duff info.
Commenting has ended on this article.