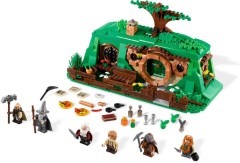 I believe the only official image of a The Hobbit set that's surfaced is that of 79003 Bag End which LEGO posted on Facebook. However, a German toy shop website has listed the other sets, with prices:
79000 Mystery of the Ring (€13)
Minifigures: Bilbo Baggins, Gollum
79001 Fleeing from the Mirkwood Spiders (€30)
Minifigure: Bilbo Baggins
79002 Attack of the Wargs (€60)
Minifigures: Gandalf, Wargs (unknown amount)
79003 Bag End (€80)
Minifigures: Bilbo Baggins, Gandalf, Balin, Boufer, Dwalin
79004 Escape in Barrels (€70). This may be a 'reduced availability' set. The site says 'whether we can offer this product is still uncertain'
79010 The Orc King (€100)
Minifigures: Bilbo Baggins, Gandalf, Orc King
Thanks to Legolover9531 for the information and providing the minifig details. Sorry if this is old news, I've been out of it for a while :-)
Commenting has ended on this article.