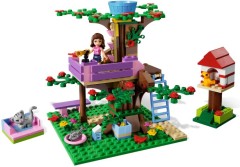 An article in this month's Toy News trade magazine states that Friends is such a success that LEGO can't keep up with demand. Apparently, it sold 'twice as much as anticipated' when it was launched and is now 'bigger than Sylvanian Families'.
I guess this means we won't see the sets deeply discounted any time soon, and that the summer sets will be in short supply during the run-up to Christmas. So, if you have daughters that you need to buy them for, it'll probably be as well to do so now.
LEGO UK MD Drew Brazer states that they will not be saturating the marketplace in the short term to solve the problem but that "[Friends] will be with us for years and decades to come".
The trade magazine doesn't usually contain much worth reporting here but this month there are several interesting articles and statistics related to LEGO:
LEGO minifigures are at the top of the chart for UK retails sales this year, both by volume and value of sales, beating Moshi Monsters, Hot Wheels, Match Attax and other pocket-money toys.
A survey of 500 children commissioned by the magazine revealed that 92% have played with LEGO compared to just 58% who have played with with M???B???s. They probably didn't need a survey to find that out, did they...
The UK construction toy market was valued at £280 million in 2011, a growth of 12% over 2010. I think we can conclude LEGO take the lion's share of that based on the previous statistic.
The August edition isn't available online yet but it should be soon. Keep a look out for the digital edition of the magazine if you want to find out more.
Commenting has ended on this article.