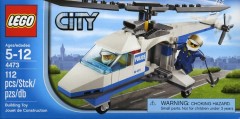 An image of the upcoming City set 4473 has surfaced via the Argos.co.uk website, where they have it wrongly uploaded as the photo for 7741. Personally, I think it's about time we had a new City Police Helicopter, 7741 has been on sale for 4 years now! Does anybody have any info on when we will see this released? Thanks to kez in the forum for the news!
(Image now added to Brickset -- Huw)
Commenting has ended on this article.