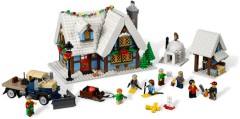 The 10229 WVC was officially unveiled at BrickFair today. Here's the press release:
10229 Winter Village Cottage
1487 pieces, US $99.99, CA $129.99, DE 99.99 €, UK £89.99, DK 899 DKK, Available at the start of October.
Get cosy in the Winter Village Cottage!

Continuing the winter series, build the Winter Village Cottage for a perfect holiday home. Seat Grandpa snugly by the fireplace with his newspaper as you help Dad to put up the tree, then bake a feast in the kitchen with Mom! When it's time to stock up the storage shed with firewood, bring the kids for a ride with Dad on the sled watch him cut the wood with his chain-saw deep in the forest. When the snow gets really deep, clear the road with the snowplough, take all of the kids skiing or build an igloo to play in. There's no cosier place to spend long, frosty nights!
Includes 8 minifigures: mom, dad, grandma, grandpa, 3 children and snowplow driver with assorted accessories
Features cottage, storage shed, igloo, street lamp, sled and snowplough
Accessories include kitten, owl, fireplace with LEGO light brick function, chandelier, Christmas tree, wreath, gifts, armchair, kitchen appliances and bed
Storage shed features tools and firewood elements
Igloo features fireplace and removable roof
Detach the snowplough to store it in the back of the truck!
Make the fireplace glow with the LEGO® light brick!
Decorate the cottage!
Fetch firewood with the sled!
Drive the snowplough!
Cottage measures 6.7" (17 cm) high, 9.8" (25 cm) wide and 5.5" (14 cm) deep
Storage shed measures 4.3" (11 cm) high, 2.7" (7 cm) wide and 2.7" (7 cm) deep
Igloo measures 2.7" (7 cm) high, 2.7" (7 cm) wide and 2.7" (7 cm) deep
Snowplough measures 2.7" (7 cm) high, 7" (18 cm) long (with plow attached) and 2.3" (6 cm) wide
Add the new Winter Village Cottage to other LEGO® Winter Village series models like the 10199 Winter Toy Shop, 10216 Winter Village Bakery and 10222 Winter Village Post Office.
The additional images are now available on the set details page and the designer video is now up on YouTube.
Commenting has ended on this article.