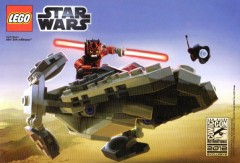 I'm a big fan of Star Wars mini building sets and try to get hold of every one produced. One that I, and most of us for that matter, are unlikely to be able to obtain is this 2012 SDCC exclusive Sith Infiltrator.
I was therefore pleased when Mike Lilly sent me a copy of the instructions in PDF form so that I can at least build my own copy. I don't normally post instructions directly at Brickset because LEGO often objects but in this case I have made an exception given that it is not available elsewhere and interest in it is likely to be high.
So, download and build one for yourself. All the parts are readily available, you probably have half of them already.
Commenting has ended on this article.