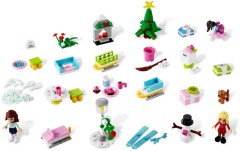 Back in May we reported that a Canadian retailer had been told that the Friends Advent calendar had been cancelled. Well, clearly that isn't entirely true since it's appearing in the US brand stores now. But it does seem to be in very short supply, and possibly 'cancelled' as far as normal retailers are concerned.
Sherasays found one in his/her local brand store: "Got the Friends Advent Calendar at the LEGO Store in Chandler Mall, AZ. Told they only have 18 and then that is it. "
Sawneboy also in the USA, rang LEGO to find out if it was to be available online, but was told it'll only be available in the brand stores, and also that the likes of Walmart and TRU won't be selling it.
I guess this suggests it is 'hard to find' in North America and you'll need to get to a brand store to buy one, sooner rather than later, to avoid disappointment on 1st December!
In Europe, its status is unknown but it is listed at Amazon.co.uk (£20), Amazon.de and Amazon.it (€20), with a release date of 1st September, so hopefully it'll be available through all normal retail channels.
Commenting has ended on this article.