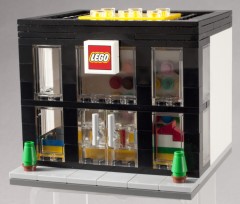 If you didn't manage to get to a brand store opening event but fancy your own Brand Store model (which I reviewed a while ago), you will want to enter the raffle that kevbags is running in the forum:
"I've been lucky enough to visit both the Manchester and Sheffield Grand Openings and therefore I have two store models. I have had requests from friends and strangers about if my spare is available for trade. I couldn't think of a fair way to offer it to one person and I'm not comfortable selling something I picked up for nothing.
"So after getting the go-ahead from Brickset management I'm starting a raffle here with the one and only prize being a 3300003. All proceeds will be used to buy LEGO which will be donated and built by children on the cancer ward at my local hospital."
It's for a very worthy cause so I encourage you to buy a ticket (£1 via PayPal) and support this great initiative. Find out more in the forum.
Commenting has ended on this article.