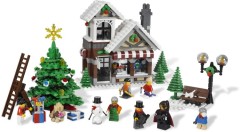 The much anticipated Winter Toy Shop
can now be ordered from LEGOshop.com priced £39.15 in the UK, as previously reported, and US$60 in the USA. It's not yet in our product feed and is a job to actually find on the LEGO site (searching for 10199 or Winter Toy Shop is unsuccessful) so use these links to order it: UK
| USA
(thanks dermott47)
Also, whung found two more Christmas sets in the LEGO instructions cache: 30008 Snowman and 30009 Christmas Tree. As if there weren't enough holiday sets to buy already!
UPDATE - These sets are starting to appear in LEGO Brand Stores & Imagination Centers; we have received confirmed reports from the US (Minneapolis) & the UK (Milton Keynes), so it's presumably in the German stores too.
Another update: As proof that LEGO read Brickset, I've been asked to inform you that searching for the terms mentioned above DOES now work!
Commenting has ended on this article.