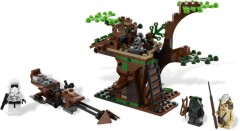 I don't normally like to post articles about specific sets being reduced, they get a bit boring, don't they, but I think this warrants an exception (plus, news has been slow today...)
Ewok Attack is currently less than half price at Amazon.co.uk, having dropped in price by £11 today and is now only £12.45. I don't suppose they'll last, so get in quick...
Commenting has ended on this article.